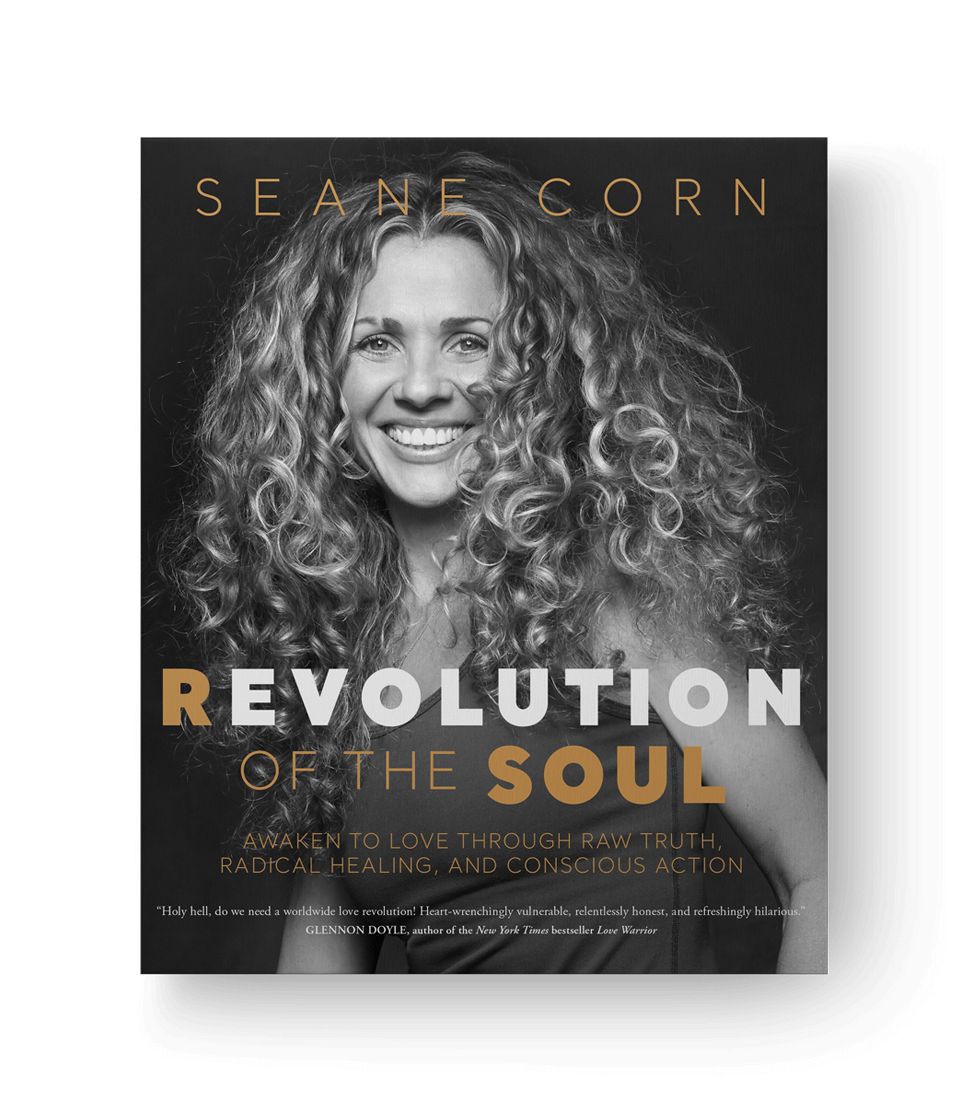 Awaken to Love Through Raw Truth, Radical Healing, and Conscious Action
Celebrated yoga teacher and activist Seane Corn shares pivotal accounts of her life with raw honesty—enriched with in-depth spiritual teachings—to help us heal, evolve, and change the world.
"My first lessons in spirituality and yoga had nothing to do with a mat, but everything to do with waking up. They included angels, seeing God, and being in Heaven. But, believe me, not the way you might think." So begins Revolution of the Soul.​
What comes next reads like a riveting memoir filled with uncensored moments of joy, pain, wonder, and humor.
Except, this book is so much more than that.
Seane's real purpose is to guide us into a deep, gut-level understanding of our highest Self through yoga philosophy and other tools for emotional healing—not just as abstract ideas but as embodied, fully-felt wisdom. Why? To spark a "revolution of the soul" in each of us, so we can awaken to our purpose and become true agents of change.
To take us there, she shares "the highlights, lowlights, and what-the-fucks" of her own evolution, including:
How, in the gritty clubs and cafes of New York's 1980s East Village, Seane meets the first everyday "angels" that will change her path forever
Her first yoga classes (with dirty sweats, Marlboros, and the mother of all monkey minds in tow)
How a variety of unconventional therapists masterfully helped Seane embrace her shadow and resolve her childhood trauma, OCD, unhealthy behaviors, and relationship wounding
A pilgrimage to India where Seane receives stinging truths about false gurus and our need to trust the teacher within
Poignant, hard-earned lessons on how to be a truly effective and heart-centered activist
How she came to understand the connection between the inner work of transformation and the outer work of social change
And many other stories, each illuminated by immersive teachings
"When we heal the fractured parts of ourselves and learn to love who we are and the journey we've embarked upon," writes Seane, "we will see that same tender humanity in all souls. This is the revolution of the soul." And with this book, you're invited to be a part of it.
"Holy hell, do we need a world-wide love revolution! Heart-wrenchingly vulnerable, relentlessly honest, and refreshingly hilarious."
"Seane's passionate, tough, compelling, honorable, healing dharma story will touch your heart….and inspire the real yogi in you."
"In this insightful and integrated book, Seane boldly confronts issues of privilege, race, and justice that yogis and meditators too often bypass, starting where it matters: from the inside out."
"A wondrous kaleidoscope of stories told with grit, humor, humility, Revolution of the Soul will inspire you to take your practice off the mat and into the world--and show you how."
"Seane Corn is a wise and beautiful woman, articulating elegantly modern teachings that emerge from ancient truths. Her book is a gift to all of us."
"Seane's honesty and vulnerability will inspire you to get real and heal...and effect change from a place of love."
"Positively riviting. Corn writes like a skilled novelist--building suspense and quietly drawing the grateful reader into an irresistible world. This book is raw, honest, moving, hilarious, and oh-so-human."
"A hilarious, holy, raw, deep, and essential book about life, not just yoga...replete with practical guidance for rolling out our yoga mats, literally and metaphorically, and stepping onto our paths of radical self-inquiry, discovery, and accountability, all for the ultimate purpose of being in healthy, honorable, and sustainable service to our fellows and our world. Read this book!"